Greg Vann Nissan's Service & Parts
Our Service Department
Whether you want to accessorize your Nissan, purchase parts or book a tune up, our trained service & parts staff are ready to help you out. Greg Vann Nissan commits to ensure your Nissan performs at peak level, so you can experience peak enjoyment.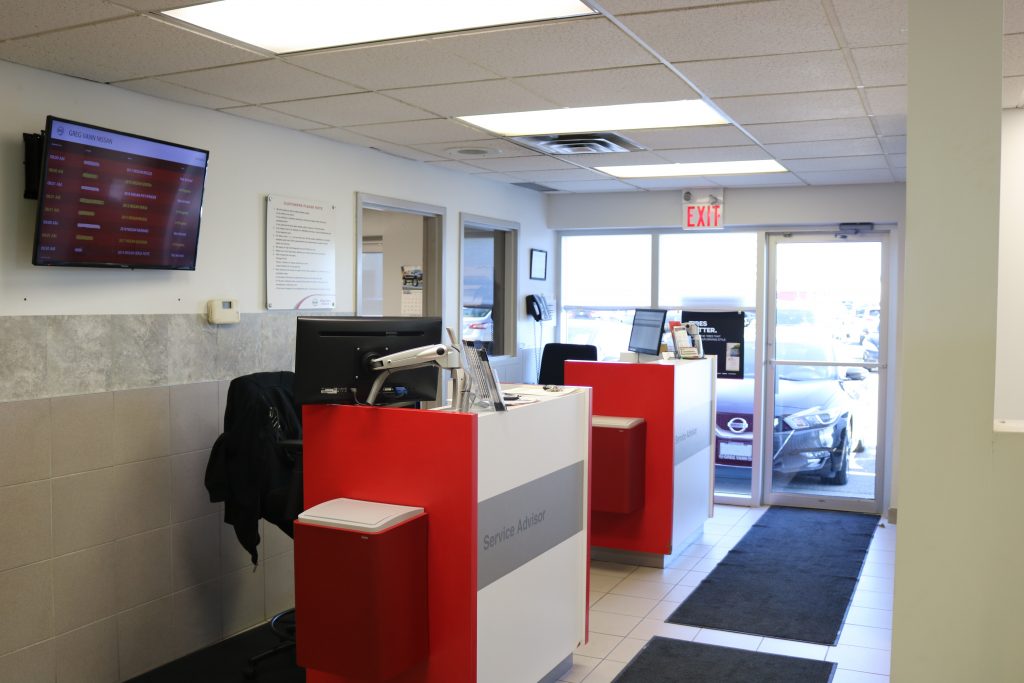 Customers can enjoy our coffee or tea, free wireless internet and TV while they relax in our waiting room during a service appointment. Our waiting room also includes a vending machine, water cooler, and two washrooms.
Greg Vann Nissan now offers no hassle, low cost tire storage. Store your seasonal tires in our secure & insured tire storage warehouse. Each tire is recorded, then tagged and shipped to our warehouse.
When customers wish to get their tires out from storage, they can simply call the Service Department. Then within 2 days, your tires will be ready for pick-up from the Service Department.
Nissan Dealers offer these advantages:
Factory trained technicians
Access to warranty service history and factory technical info
Special tools unique to Nissans
Genuine parts that meet Nissan's standards
12 month / 20,000 km parts & labour limited warranty when genuine parts are installed at your Nissan dealer
Lifetime limited warranty on select replacement parts
Estimates available upon request
And more – Contact us today for further details
Our Parts Department
Whether you're looking to purchase parts or accessories, or just have questions about them, our knowledgeable parts staff are trained to assist you with what you need.
Oil Changes & Basic Maintenance
Customers can drop in to our service department anytime during service hours, no appointment necessary, and one of our service advisors will be happy to assist you! Our oil changes and basic maintenance are performed on a first come first serve basis, so if you are on a tight schedule, you can call in to book an appointment ahead of time, and our service advisors will do their best to accommodate you with a time slot that works best for you!
ASK ABOUT MOBIL 1 SYNTHETIC OIL CHANGES
Protects against harmful deposit and sludge build-up that affects lubrication
Helps keep engines clean and promotes longer engine life
Resists oil oxidation and thickening and prevents premature wear of all engine parts
Helps reduce oil usage during high-speed operation
Tech is proven
---
Do you:
Take lots of short trips?
Drive in stop and go traffic?
Tow a trailer or carry heavy loads?
Want fast cold weather engine starts?
Idle for long periods of time?