Nissan Frontier 2023: Versatile Mid-Size Pickup Truck
Blog
Jun 5th, 2023
Nissan Frontier 2023: The Versatile Mid-Size Pickup Truck
Introducing the Nissan Frontier lineup: Nissan Frontier S, Nissan Frontier SV, and Nissan Frontier PRO-4X! Join our Nissan pick-up truck team and experience the perfect blend of power, durability, and adventure. Whether you're seeking a reliable work companion or a rugged off-road explorer, our Nissan trucks are designed to transform every road into an exciting journey. Since 1959, when Nissan introduced its first mid size pickup truck, we have consistently pushed the boundaries of technology and design to bring you the finest truck models of all time. Today, with our experts in Greg Vann Nissan, we would like to invite you to discover the outstanding features of the powerful 2023 Nissan Frontier.
Nissan Frontier: King Cab vs Crew Cab
Discover a world of versatility with Nissan's wide range of configurations! Whether you prioritize a spacious interior for your family or a longer bed for your work truck, Nissan offers the perfect solution. The choice is yours!
Take a look at the Nissan Frontier King Cab, which is available in all trim levels and offers generous space for four individuals along with a 6-foot bed, or explore the versatile Nissan Frontier Crew Cab available for SV and PRO-4X models, providing comfortable seating for five people and the flexibility to choose between a 5-foot or 6-foot bed. Our specialists at Greg Vann Nissan are ready to help you select the best option for your specific needs!
Nissan Frontier Engine Performance
Whether you're transporting heavy cargo for your business, pulling a trailer for a vacation getaway, or indulging in adrenaline-pumping off-road adventures – this truck is your ultimate companion. Powered by a 3.8L V6 engine generating a remarkable 310 horsepower, this vehicle boasts an impressive towing capacity, ensuring it can conquer any task you throw at it. Not only does it deliver exceptional performance but also offers a fuel efficiency of 12.2 L/100 km in the city and 8.9 on the highway, allowing you to navigate with ease while keeping fuel costs in check.
Considering that the Nissan Frontier gas tank size has an 80L capacity, whether you're exploring the streets of Cambridge or embarking on adventures across Ontario, you can drive confidently without the constant worry of frequent refueling. With its 4-wheel drive system ensuring optimal traction and control in rugged terrains or challenging weather conditions, combined with a 9-speed automatic transmission guaranteeing a smooth and comfortable ride, you can fully relish every moment of your journey.
Nissan Frontier Towing Capacity
The Frontier S trim stands out as the ideal choice for towing due to its exceptional towing capacity of nearly 3000 kg (6490 lbs) which sets it apart as the top performer of its class. Whether you need to haul equipment for work or tow recreational vehicles for your next adventure, the Frontier S delivers the power and strength required to tackle any towing challenge.
If the power takes precedence over seating space, the Frontier SV and PRO-4X models in the King Cab configuration are your next go-to choices. These pick-up trucks can effortlessly pull weights of up to 2926 kg (6450 lbs) and 2898 kg (6390 lbs) respectively, showcasing their prowess in the world of heavy-duty hauling. From transporting equipment to conquering tough terrains, these King Cab models have you covered.
However, if you yearn for the perfect balance of interior space and towing capability, the Crew Cab options in the SV and PRO-4X trims deliver an exceptional experience. With towing capacities of approximately 2830 kg (6240 lbs) and 2839 kg (6260 lbs) respectively, these Crew Cab models ensure you never have to compromise on comfort or power – the ideal companions for both family outings and demanding work requirements.
With the Nissan Frontier hitch options and other towing accessories and truck parts available at Greg Vann Nissan, you will have an easy time finding the best equipment for your truck.
Nissan Frontier Bed Size & Payload Capacity
When it comes to your pick-up truck, the dimensions of the bed space and its loading capacity are paramount, whether you're packing for work or planning a memorable family vacation. Let's dive into the comparison and discover the perfect fit for your needs:
Frontier King Cab, equipped with a bed length of 186.1 cm and a width of 113 cm (6.1 x 3.7 ft), provides an impressive total bed surface of 2.1 m² (22.6 sqft). This means you'll have ample space to load your cargo, with a remarkable payload capacity of almost 650 kg (1,430 lbs). Picture the convenience of easily fitting your work equipment or holiday essentials without compromise.
Now, let's take a look at the Frontier Crew Cab, boasting a slightly smaller bed size of 149.5 cm in length and 113 cm in width (4.9 x 3.7 ft), resulting in a bed surface of roughly 1.7 m² (18 sqft). However, don't let the compact dimensions fool you – this truck still offers impressive loading capabilities, with a maximum payload capacity of up to 558 kg (1,230 lbs). It strikes the perfect balance between space and maneuverability, making it an excellent choice for family trips where passenger comfort is a priority.
If you desire a bit more bed length while maintaining the convenience of a Crew Cab, the Frontier Crew Cab Long Bed is your ideal match. With the same dimensions as the King Cab (186.1 cm x 113 cm or 6.1 x 3.7 ft) and a bed surface of 2.1 m² (22.6 sqft), this configuration provides versatility for both work and play. It offers a generous payload capacity of 517 kg (1,140 lbs), enabling you to handle your transportation needs with ease.
Nissan Frontier Interior Design & Safety Features
Whether you will be driving the Frontier for work or embarking on a well-deserved vacation, the abundance of Nissan Frontier interior features and safety technology will greatly enhance your experience.
The power-sliding sunroof floods the cabin with natural light, creating a pleasant and energizing atmosphere. This can be especially useful during long workdays or when spending extended periods in the truck. During chilly winter getaways the Remote Engine Start System ensures a warm and inviting cabin, even before you step inside. The heated seats, heated steering wheel, and heated mirrors provide exceptional comfort and convenience in cold weather conditions.
Safety takes center stage with Nissan's Safety Shield 360 technology. This innovative suite of advanced standard safety and driver-assist features sets new standards for mid size trucks. From Intelligent Emergency Braking to Blind Spot Warning and Lane Departure Warning, and many other safety features, you will be provided with unparalleled protection on the road. With cutting-edge technology at your side, hazards are avoided, and you can enjoy peace of mind during every ride.
Nissan Frontier PRO-4X: The Ultimate Off-Road Truck
For adventure enthusiasts, this particular trim level is packed with exciting features!
The Bilstein Off Road Shocks, specifically designed for tackling rugged terrain, ensure that you conquer any challenging road (or off-road!) conditions with ease. This Nissan Frontier tire size is 17 inches – PRO-4X is fully prepared for any trail, providing the necessary grip and stability for an exhilarating off-road experience! The engine, oil pan, transfer case and fuel tank are protected by the Nissan Skid Plates allowing you to navigate the rocky and dusty trails with thrill, enjoyment, and peace of mind! The distinctive eye-catching Lava Red accents, combined with the bold and muscular overfenders, imbue the vehicle with a distinctive and unforgettable style.
Nissan Frontier Accessories
There are a variety of accessories available to customize your truck according to your specific needs. When it comes to covering the cargo area, you have multiple options to choose from. The Nissan Frontier Canopy is a durable hardtop cover made of fiberglass, providing reliable protection for your belongings. Alternatively, the Nissan Frontier Bed Cover, sold as Nissan Frontier Tonneau Cover, is a retractable and waterproof solution that can be easily installed on your pickup, ensuring the safety and security of your cargo.
In terms of racks, there are various possibilities to consider. The Nissan Roof Rack offers ample additional packing space, allowing you to carry more items on top of your truck. Additionally, the Nissan Bed Rack not only provides extra loading options but also helps to secure the items being transported in the cargo area, ensuring they stay in place during your journeys.
For camping enthusiasts, a Nissan Truck Tent is a must-have accessory. This truck tent opens over the bed area, creating a comfortable and convenient sleeping space for your outdoor excursions. Nissan Frontier Tent will allow you to enjoy the freedom of sleeping in nature while providing protection from the elements.
With this selection of accessories, you can tailor your pick up truck to perfectly suit your needs, whether it's for protecting your cargo, increasing storage capacity, or enhancing your camping adventures.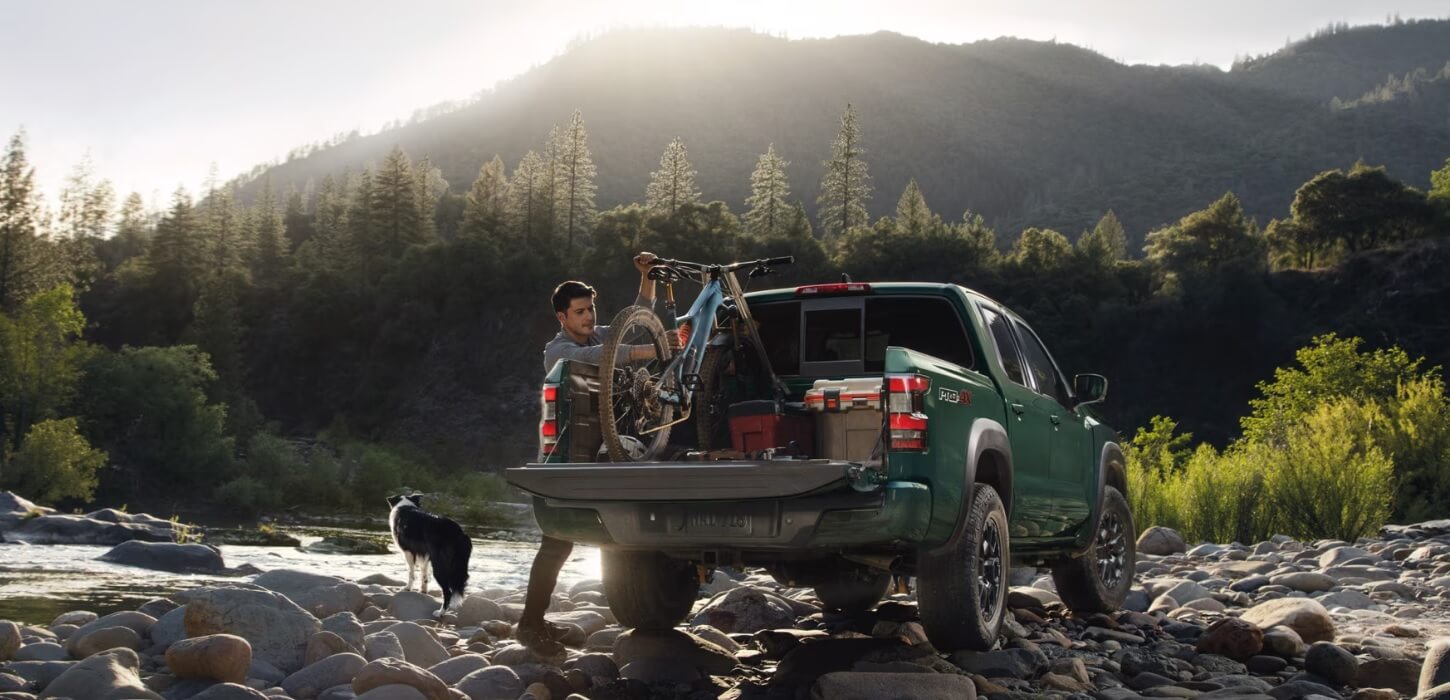 Nissan Frontier 4×4 is your best choice for a powerful and economical mid size truck. If you would like to learn more about the specs, take a look at the 2023 Nissan Frontier Brochure. Visit us at Greg Vann Nissan to take a look at our Nissan Frontier 2022 and 2023 models or check out our New Nissan Frontier inventory!