Nissan's Top 5 Dog Friendly Cars & SUVs
Blog
May 9th, 2023
Nissan's Top 5 Dog Friendly Cars & SUVs
With the approaching summer break, are you thinking about traveling with your furry companion? For many of us, pets are family members – we adapt our lifestyles and houses to make them happy and safe. When deciding on purchasing a new or used vehicle, we want the ride to be a great experience for all two and four legged passengers. At Greg Vann Nissan we're thrilled to offer you a wide range of dog friendly cars and SUVs suitable for dog owners. Whether you're preparing for a long-ride adventure or simply heading to the nearest dog park – take a peek at the Nissan models we find best to travel with your pet!
1. Nissan Ariya 
Nissan Ariya, our 2023 EV SUV, may be the most dog friendly electric car! It's a comfy, spacious model packed full of dog friendly features that make the drive smooth, safe and comfortable for your pet – check it out:
Dog car sickness may be an unpleasant experience troubling your furry friend, whether on long or short trips. Ariya's new electric four wheel drive (E-4ORCE) technology, minimizes the back-and-forth body sway and can prevent your pet from feeling uncomfortable or nauseous!
Ariya is an electric SUV with plenty of cargo space (1,690 litres!) and vertical clearance, so your canine will have enough room to stand, turn or stretch. The liftgate opens in reaction to the movement – just swing your foot below the rear bumper.
If you prefer your pup to sit in the back seat, Nissan Ariya's leather interiors are durable, waterproof and easy to wipe down! To increase your pets safety you can use an adjustable dog seat belt.
The special Sound Isolation and Active Sound Control technologies block the noise of the traffic outside, so your furry friend can relax and sleep peacefully.
Dogs regulate their body temps through panting, so if the air is too hot, your dog may overheat. Nissan Ariya has excellent climate-control, ensuring that the temperature inside the vehicle is adjusted to your dogs needs. Rear AC vents provide great airflow that reaches the cargo hold.
On a hot summer day you can place shades on the windows or consider good quality window tint (if you are looking for a reliable window tinting company, we highly recommend Privacy Tint Inc!) to limit the overexposure to sun.
If you are interested in this exciting electric crossover, check out our informative Nissan Ariya blog post!
2. Nissan Rogue
Nissan Rogue is a sporty SUV with sophisticated interior design which is well-recognized for its comfort and safety features. What makes it perfect for dog lovers?
It's super spacious! – the 70-square-foot cargo compartment with the Divide-N-Hide system, gives you six different ways to organize the space. You can easily fit the dog crate and all the necessary accessories!
With the rear seats folded down even a large breed pup (or a few medium ones!) will feel perfectly comfortable. Rear doors open almost 90° for easier entry!
The Tri-Zone Automatic Temperature Control allows you to set three separate levels of temperature comfort for you and your passengers. Your pup can chill in the cooler breeze in the back while you enjoy the temperature you like.
Arms full of all your pups gear or the dog itself? – the new Nissan Rogue models come equipped with a motion activated liftgate. Slide your leg under the rear bumper to access the cargo area.
Nissan Rogues modern tech eliminates the stressful bumps – Intelligent Trace Control and Active Ride Control and Hill Start Assist systems enable a smooth and pleasant drive.
The Rogue was the base for a Nissan concept vehicle dedicated to dogs – the Nissan Rogue Douge, presented in US and Canada in 2017. Four paws keep us inspired!
3. Nissan Pathfinder
If you have a large breed pup or need additional space for your furry friend, the Nissan Pathfinder is our recommendation for a dog friendly SUV. If you're considering embarking on off-road excursions with your dog or planning on attaching a camper, this SUV is the perfect option because it's made for all kinds of difficult terrain with a great towing power. Pathfinder is ready to take you for the next journey and here is why!
Nissan Pathfinder impresses with it's spacious, dog friendly cargo compartment – It's the only SUV in its class that can accommodate a 4' x 8' dog bed on the cargo floor. With the fully foldable back seats you will be able to fit a travel kennel. Extra storage beneath the floor will allow you to stash even more stuff!
Motion Activated Liftgate – whether you're packing your furry companions or all their accessories – the available kick activated liftgate will make it simple.
You don't want to see your dog shiver while your car warms up or overheat before the AC kicks in? The Remote Engine Start System will allow you to change the cabin temperature in advance.
To make sure all two and four legged passengers travel in comfort and perfect temperature for their needs, the Tri-Zone Automatic Temperature Control allows you three separate temperature settings. Available rear sunshades can offer your pet a break from the heat.
Advanced Driver Assistance and multiple safety technologies will ensure you a safe ride in the Pathfinder both offroad and in the city.
4. Nissan Kicks
If you are searching for a lower budget, dog friendly car that will be great for your small or mid-sized dog – Nissan Kicks is your answer.
Kicks' 60/40 second-row split-folding seats offer flexible seating configurations to fit your furry friend and all the pet accessories!
The cargo volume behind the back seats is surprisingly big for a car this size – over 700 liters will give you sufficient space even for longer road trips.
The same technologies as used in Nissan Rogue –  Intelligent Engine Break, Intelligent Trace Control, Active Ride Control plus the Hill Start Assist systems will help make every drive smoother and more precise.
Exceptional performance of Kicks –  7.7 L/100 km in the city and 6.6 L/100 km on the highway will allow you to take your pet for all the amazing adventures you deserve, while going easy on your wallet!
5. Nissan Qashqai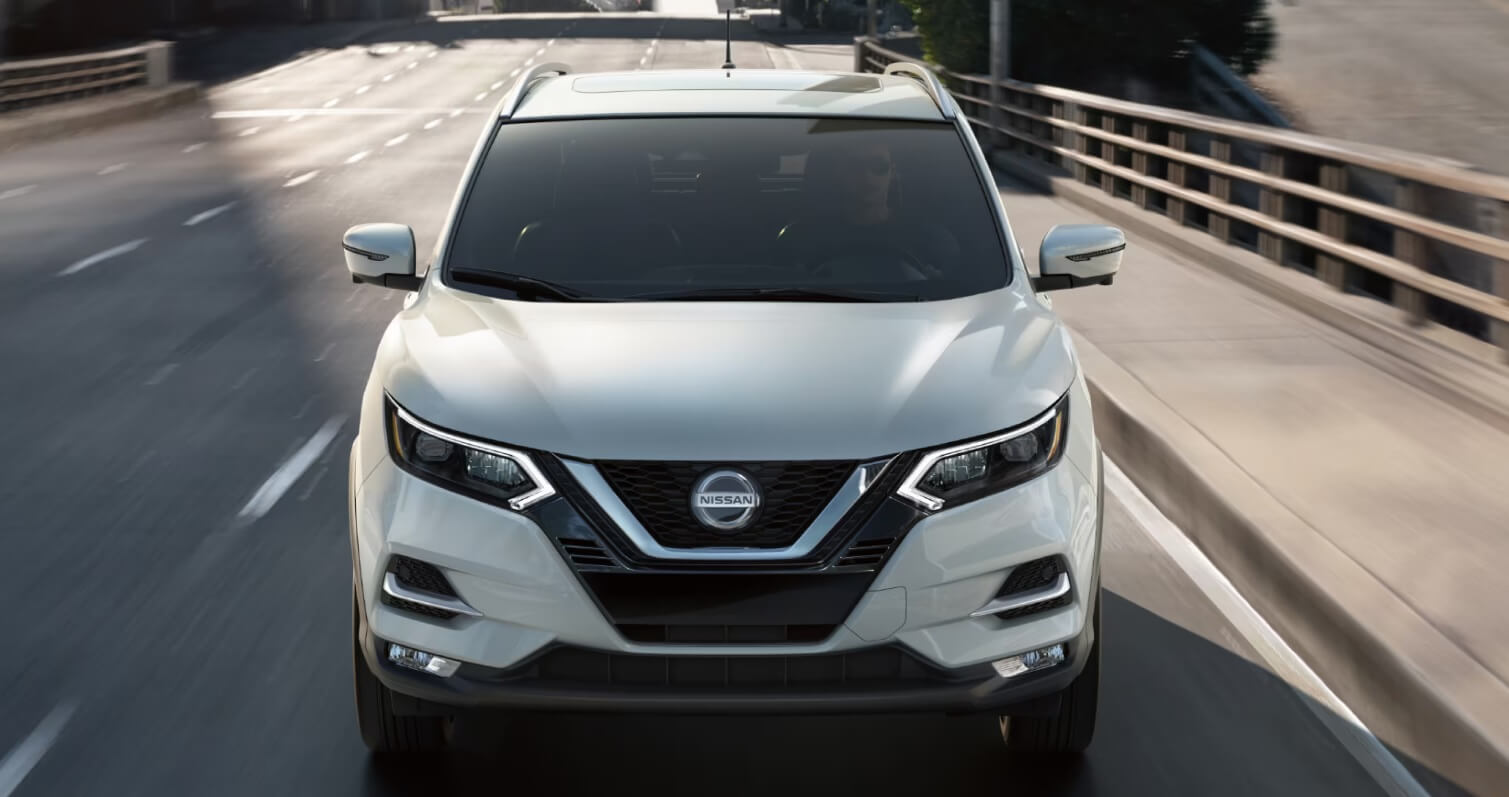 The Nissan Qashqai is the ideal car for family travel, outdoor activities, and is also a great choice as a dog friendly vehicle! If you are considering a Qashqai for such lifestyle needs, you will be excited about the following features!
The great Divide-N-Hide Cargo System, similar to the one in Rogue, allows several configurations to optimize the space. The back seats can be completely folded for the optimal comfort of your four-legged companion.
The underfloor storage and flip-up panel will help you organize items and stop them from rolling around, so they don't disturb your pet during the ride.
If your animal enjoys sitting in the back seat, a Tonneau Cover will help secure cargo in your trunk.
Remote Engine Start System can help you to preset the perfect temperature in the car before you get in!
Don't let bad weather derail your plans for spending time with your dog! Available Intelligent All-Wheel Drive has the ability to adjust to the changing situations on the road in less than a second, improving the safety of your driving.
Dynamic Drive Technologies and Eco mode will maximize the fuel efficiency and the ride comfort for all passengers.
Whether you have a large or little dog, one or more, our experts at Greg Vann Nissan will assist you in selecting the right car for you and your pet's needs. Our extensive selection of car accessories is designed to make traveling with your dog the utmost pleasurable and stress-free experience possible! We're here to accompany you in choosing your next dog friendly vehicle, whether you're taking longer road trips or afternoon strolls to one of the beautiful dog parks in Cambridge.
Feel free to browse the selection of dog friendly vehicles available in our inventory:
Book a Test Drive in one of our dog friendly cars at our dealership today!