Best Nissan SUVs & Trucks for Camping
Blog
Jun 17th, 2023
Best Nissan SUVs & Trucks for Camping
Check out our top picks of camping trucks and SUVs at Greg Vann Nissan!
Are you a passionate explorer, always looking forward to outdoor adventures, camping under starlit skies and venturing off the well-trodden paths? With the warm summer months upon us, it's time to discover the wonders of Canadian nature. You may be surprised by the plentiful amount of amazing destinations around Cambridge – from breathtaking waterfalls and lush forests to seemingly endless trails, Ontario offers it all. If your imagination is captivated by the idea of an exhilarating road adventure, you can envision yourself exploring the mesmerising national parks of the northern provinces or relaxing on the beautiful coastline. Are you ready for your next adventure?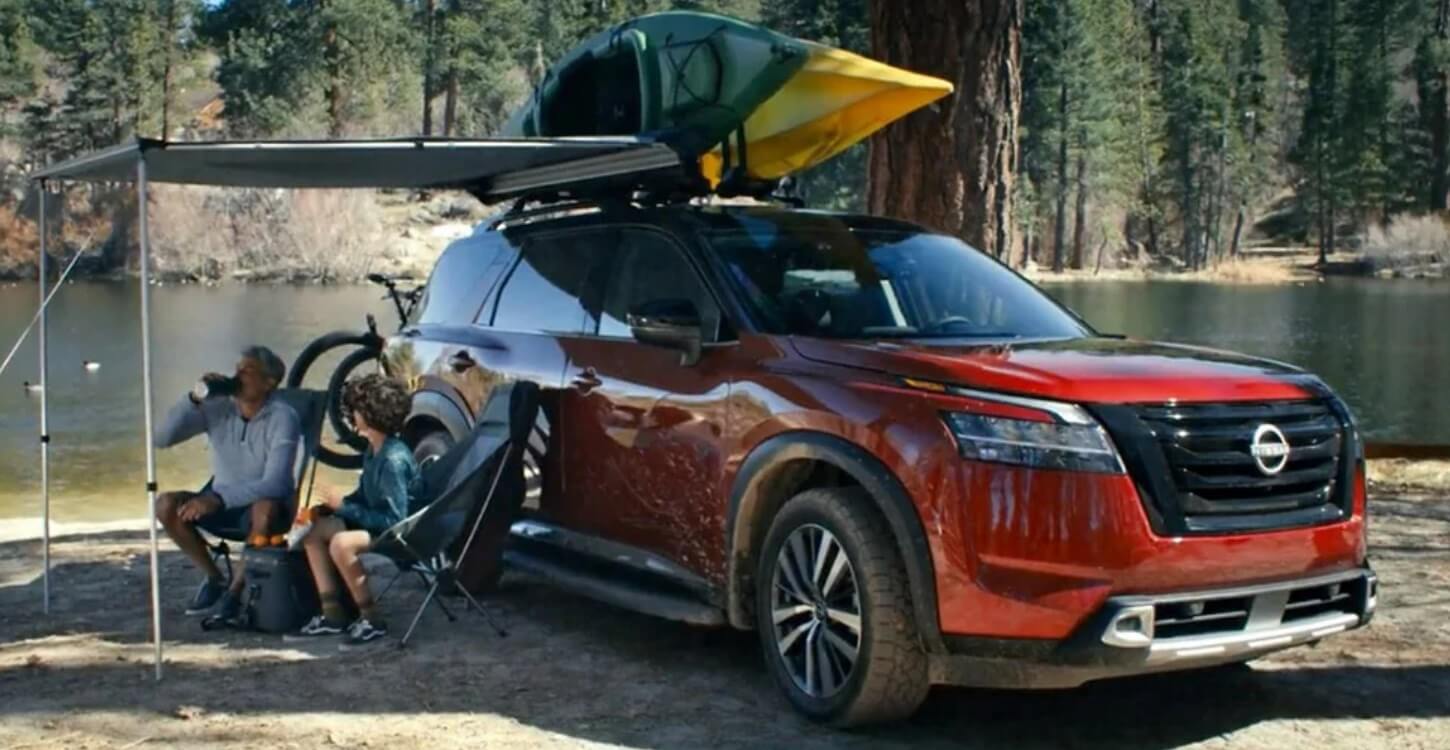 However far your dreams take you, immersing yourself in the untamed wilderness demands a steadfast companion—a vehicle that combines reliability, safety, and unwavering determination to conquer any rugged terrain. As you venture into the wild, we're here to help you find the perfect Nissan that's up for the challenge and will ensure your camping and outdoor trips are nothing short of extraordinary.
Nissan TITAN 2023, Nissan TITAN XD 2023, Nissan TITAN PRO-4X 2023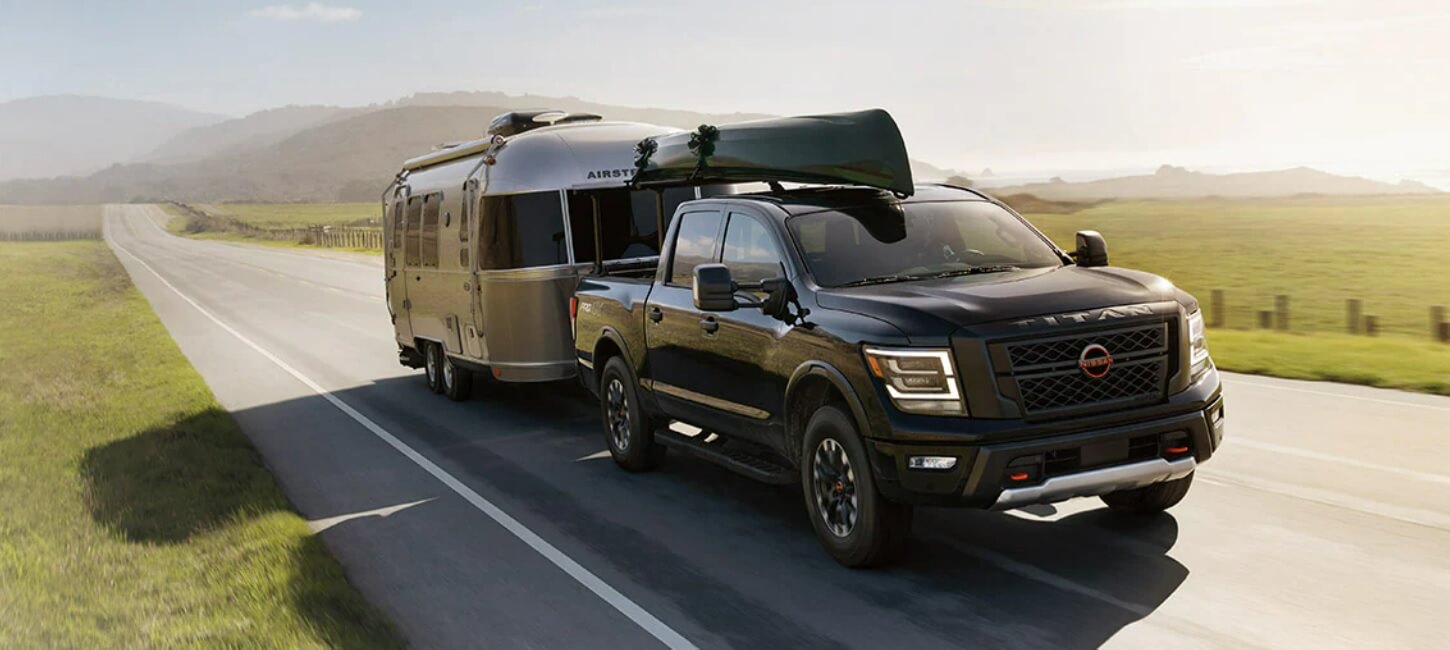 The available trims, equipment and accessories of Nissan Titan are like a wish-list of any adventurer and 4×4 enthusiast. Here is what makes this Nissan truck the best companion to take off-the-beaten path!
Off-Road Features
Enhance your traction and control while on the move with the convenient Shift-On-The-Fly 4-wheel drive option. Easily switch to 4LO mode to conquer challenging terrains, and seamlessly transition back to 4H mode when the trail becomes less daunting. With ample ground clearance, the TITAN can navigate rough terrains and venture off the beaten path. The Active Brake Limited Slip (ABLS) system automatically applies brakes to slipping wheels while directing power to the wheels with better traction, ensuring optimal handling in slippery situations. Additionally, the TITAN offers Hill Start Assist, which prevents rolling backward on steep hills, and Hill Descent Control, which maintains a controlled speed and brake pressure during downhill descents

Adventure gear 
Nissan TITAN Skid Plate will protect your engine and undercarriage, when conquering rough rocky terrain. The Mud Flaps are designed to help prevent dirt and debris from scratching your truck's finish.

Off-road Trim
When it comes to truck camping, the TITAN PRO-4X takes it up a notch! This trim offers the Bilstein shocks – the suspension providing improved comfort and increased control, ensuring a smooth and enjoyable ride experience. Every PRO-4X features a dedicated off-road gauges display that includes pitch, roll, 4×4 engagement and differential lock status. To maximise the grip, this truck is equipped in all-terrain tires with off-road tread design.

Convenient Technologies: 
The Intelligent Around View Monitor technology proves to be incredibly useful when going off-road, providing an expanded field of vision, and allowing you to see the terrain and obstacles around the truck. No more worries when navigating tight and narrow areas!
Generous Cargo & Payload 
With its versatile and robust truck bed, equipped with a range of exceptional accessories such as a spray-on bedliner, Utili-truck system, LED lighting, 120V outlets, and lockable storage boxes, TITAN offers impressive payload capacity ranging from 770 to nearly 1100 kg (1697 to 2408 lbs), depending on the specific trim level. The truck bed is available in two sizes: 2m x 1.62m (78.7" x 63.8") and 1.7m x 1.62m (67" x 63.8"). The longer bed provides a generous cargo surface of approximately 3.24m2 (~35 sq ft), while the shorter version offers 2.75m2 (29.6 sq ft), allowing you to effortlessly pack all the essentials for your next adventure, whether its camping gear for the whole family or your favourite motorcycle.  If you prefer to keep the bed covered, you can look into the truck cap or truck canopy options.
Towing Capacity
Towing has never been easier! With the lineup of towing features and hitch options, TITAN's towing capacity reaches up to half a ton (11.033 lbs)! If you're planning to take your camper trailer to the next location or looking into moving your heavy boat trailer – this Nissan truck will not disappoint.

Cabin Comfort
Nissan TITAN's dual panel panoramic moonroof floods the cabin with natural light during the day and allows for incredible stargazing, while you relax in the comfortable seats.  Whether you're looking to cool off after a rigorous hike or warm up after a night spent in a tent, the Remote Engine Start System with Intelligent Climate Control can easily adjust the cabin to your desired comfort level, allowing you to unwind and rest before the next part of your adventure.

Truck Accessories
Prepare for the upcoming excursion and customise your TITAN with Nissan's camping accessories for trucks! Upgrade your camping experience with the Nissan TITAN truck tent (Bed Tent), providing a durable and comfortable sleeping space right in your truck bed. For bike enthusiasts, Yakima supplies a range of rear bike racks designed specifically for Nissan models, ensuring a secure and convenient transportation solution for your bikes.
All-terrain Champion
The versatile features of Nissan TITAN trims allow you to adapt with ease to varying conditions of your exciting trip, ensuring a smooth and capable off-road experience. Whether you select Nissan TITAN, TITAN XD or TITAN PRO-4X, you'll have a reliable camping truck that is designed to surpass any challenge along the way.
You can browse our 2023 Nissan TITAN Inventory.
Nissan Pathfinder 2023
Are you looking for a smaller, but efficient vehicle that combines the power and durability of the truck with the comfort of an SUV? Maybe you're planning summer vacation and you desire a comfortable car that will fit the entire family? The Nissan Pathfinder is your best answer! Discover the boundless possibilities that await you with this renowned Nissan mid-size SUV, designed to cater to adventures of every kind!
On and Off-road Performance
No matter how demanding the terrain, the Nissan Pathfinder is ready to conquer it. Equipped with Intelligent 4×4 technology and seven Drive and Terrain Modes, this SUV is prepared to tackle any type of challenge. Tailored to specific conditions like snow, rain, sand, dirt, and gravel, each mode optimises your Pathfinder's performance. Say goodbye to wheel slippage and embrace a more responsive drive that keeps you in control of the road ahead. With its V6 engine and smooth-shifting 9-speed automatic transmission, navigating through narrow trails, rugged paths or rocky tracks becomes an effortless and enjoyable experience.

Towing Capabilities: 
From the selectable modes, you can choose Tow Mode, which combined with Downhill Speed Control technology and Trailer Sway Control allows you to easily maintain control and stability, while pulling any type of cargo! The towing capacity reaches 2722 kg (6000 lbs), meaning you can easily attach a small camper trailer or a transport hitch!
Expansive Cargo
Nissan Pathfinder stands out among its class with its generous cargo area measuring 1.2m x 2.4m (4′ x 6′), providing a spacious surface of 2.9 m2 (31 sq ft). The abundance of space, which can be expanded by easy-folding second and third row seats, allows you to effortlessly store your belongings. The added bonus of underfloor cargo storage together with cabin storage space ensure that all your car camping essentials stay organised. Enjoy the peace of mind when packing your outdoor gear, knowing that you have all the room you require for your adventures.

Safety Technologies
When travelling off-road, the Intelligent Around View Monitor of the Nissan Pathfinder becomes an invaluable tool, providing a virtual bird's-eye view, and offering a comprehensive perspective of your surroundings, allowing you to assess obstacles, trail width, and the best paths to take. With upgraded situational awareness, you can confidently navigate challenging terrains and make informed decisions for a smoother and safer off-road experience.

Comfortable interior
Experience unmatched comfort during your long journeys with the thoughtfully designed interior of the Nissan Pathfinder. Its spacious cabin, boasting three rows of seats, offers ample room for up to 7 or 8 passengers. You and your fellow travellers can relax and enjoy the ride, as the Tri-Zone Automatic Temperature Control system sustains everyone's ideal comfort zone, regardless of the outside conditions. Whether it's a road trip or a daily commute, the Pathfinder ensures that every passenger can indulge in a truly comfortable travel experience.

Mobile Hotspot
The Wireless WiFi Hotspot transforms the Nissan Pathfinder into a reliable and convenient hotspot, enabling passengers to enjoy seamless streaming, browsing, and working while on the move. This feature ensures that long journeys are never dull and keeps everyone entertained throughout the rides.

Car Camping Accessories
Equipped with an array of camping accessories for cars made to enhance your outdoor adventures, Nissan offers ideal solutions for your needs. With Roof-rail Crossbars that provide a secure platform for transporting large equipment and a convenient car bike rack, whether it's a roof bike rack or rear bike rack, your Pathfinder is fully prepared for any expedition you undertake.
Adventure partner
Nissan Pathfinder 2023 is a dependable partner in big and small adventures, solo or with company! If you would like to know more about this model, take a look at the 2023 Nissan Pathfinder Brochure and our 2023 Nissan Pathfinder Inventory.
Nissan Frontier PRO-4X 2023
The Nissan Frontier PRO-4X trim specifically designed for outdoor adventures and off-road explorations! Its impressive features and capabilities make it one of the best trucks for camping – take a look yourself!
Off-Road Performance
With features like Bilstein off-road shocks, all-terrain tires, and an advanced four-wheel-drive system, the Nissan Frontier PRO-4X delivers unparalleled performance, allowing you to navigate challenging terrains and reach remote camping spots with confidence.

Durability and Protection
When exploring rugged landscapes, durability is crucial. The Nissan Frontier PRO-4X comes equipped with skid plates, which protect essential components like the engine, oil pan, transfer case, and fuel tank from potential damage caused by rocks, debris, or rough terrain.
Bed Utility
The Frontier Pro-4X offers a spacious rear storage, with the flexibility of choosing between a 5-foot Crew Cab Short Bed or 6-foot King Cab Bed. The total cargo surface (respectively 1.7 and 2.1 m2) with the payload up to 650 kg (1,430 lbs) will make packing your camping essentials easy and stress-free! Enhance the bed's functionality by adding accessories like a Nissan car bike rack, bed rack or tonneau cover, providing ample storage options and securing your items during transportation.
Comfort and Convenience 
Camping trips often involve spending extended periods in your vehicle. The Frontier Pro-4X provides a comfortable and well-appointed interior, with features such as heated seats, a power-sliding moonroof, and advanced technology like the Nissan Safety Shield 360, which includes driver-assist features to elevate safety both on and off the road.

Towing Capability
If you need to tow a utility trailer or pull additional equipment for your outdoor activities, the Nissan Frontier Pro-4X offers an impressive towing capacity of nearly 3000 kg (6490 lbs). 

Truck Tent
The truck tents are a must-have accessory for all the truck camping enthusiasts! The Nissan Frontier Tent conveniently opens over the bed area, providing a comfortable and secure sleeping space amidst nature's embrace.
Reliable Camping Truck
Overall, the Nissan Frontier Pro-4X 2023 combines off-road prowess, durability, utility, comfort, and towing capability to make it a fantastic truck for camping and outdoor adventures. If you would like to learn more about the Nissan Frontier 2023:
Nissan Frontier 2023: The Versatile Mid-Size Pickup Truck
2023 Nissan Frontier Inventory
Nissan Rogue 2023
The Nissan Rogue, our legendary sport compact crossover SUV is one of the most popular choices among adventure enthusiasts. It's also the most budget friendly option on our list! What makes the Nissan Rogue a competitive camping car?

Smart Systems
The Intelligent All-Wheel Drive (AWD): this system provides assistance in challenging terrains by automatically improving traction and transferring power between the front and rear wheels, enhancing grip on difficult surfaces. When driving on smooth highways, the system seamlessly switches to 2WD, focusing power on the front wheels for higher efficiency. With five selectable drive modes, including an off-road mode tailored for dirt, sand, and gravel, you can confidently conquer all thrilling trails!

Fuel efficiency
When embarking on a long road trip, it's important to consider the increasing fuel prices. The Nissan Rogue offers impressive fuel efficiency, consuming only 6.7L/100km on the highway and 8.4L/100km in the city. With this excellent fuel economy, you can travel to the farthest destinations without worrying about your wallet. Enjoy your well-deserved vacation to the fullest!

Generous Cargo
With the versatile Divide-N-Hide system, the Nissan Rogue offers six flexible configurations to organise and secure your spacious cargo area of over 1000 litres (35.3 cubic feet). Safely pack all your belongings with ease, ensuring everything stays in place during your adventure. Additionally, the rear seats can be conveniently folded remotely, expanding the storage capacity to an impressive 2064 litres (72.9 cubic feet), allowing you to accommodate larger items such as outdoor gear or even a mountain bike.

Safety features
As you embark on a potentially long journey, the Intelligent Driver Alertness is there to make sure you reach your holiday destination safe and sound. The Nissan Rogue inbuilt system analyses your steering patterns to detect any signs of drowsiness or fatigue. With timely chimes and visual alerts, it reminds you to take breaks and stay refreshed throughout the ride.
Roof Attachments
With a wide range of dedicated Nissan Rogue accessories, you can expand your carrying capacity.  Nissan Roof Rail Crossbars seamlessly integrate into your existing roof rails. These steel bars provide the capability to equip various attachments on your roof. The Thule Force XT – L is a sleek and roomy rooftop cargo box designed to maximise space efficiency and aerodynamics, with user-friendly outer handles and lid-lifters, it can be easily opened and closed in any weather conditions.

Adventure Gear Racks
Don't leave your adventure gear behind! The Thule ProRide XT is a sturdy and secure roof bike rack that lets you transport your bicycle with ease. For water sport enthusiasts, the Thule Compass offers versatile options to carry your kayak or stand-up paddleboard. Whether you prefer a J-style or saddle configuration, it handles single kayaks, multiple kayaks in stacker mode, and up to two SUPs in saddle mode. With Nissan Rogue you can bring all your favourite equipment to new and exciting places!

Favourite Camping Car
All these features make the Nissan Rogue one of the highest rated cars for camping – and we can't recommend it enough! If you'd like to know more, check out the 2023 Nissan Rogue Brochure, or browse our 2023 Nissan Rogue Inventory!
When you're ready for your next adventure, make your way to Greg Vann Nissan! Discover our wide selection of brand-new and pre-owned trucks, SUVs, and crossovers that are built for exhilarating journeys to your dream destinations. Our expert team will guide you in choosing the ideal model that matches your needs and help you deck out your vehicle with all the accessories you'll want for an unforgettable summer 2023 expedition. Embrace the thrill of the wild, knowing that you have a trustworthy Nissan by your side, ready to take you wherever your adventurous spirit desires. Let the adventure begin!